An interview with our Satisfied Customer
Here is an interview with our customer Ben Reeve, a blogger and traveler who uses our product World (countries) Map for WordPress.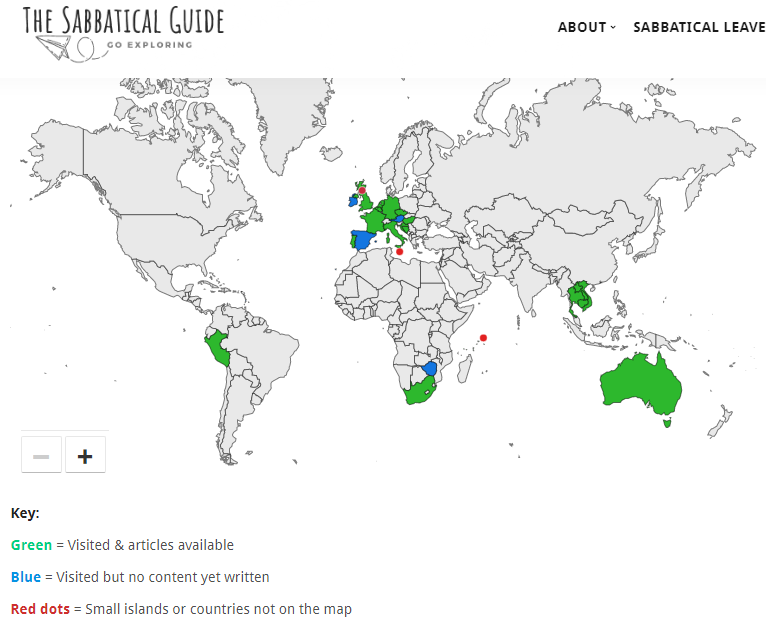 1. Tell us about your project? Are you running a travel blog?
It's a blog that helps people research and plan for sabbaticals, but also helps them build in travel on their return with weekend breaks and making the most of their vacation time.
2. How long have you been using this plugin?
About 6 months now. I first saw a similar version on the Everything-Everywhere.com blog, and knew I had to get hold of a version for my site. After some searching, I settled on this version by FLA shop and have been using it ever since.
3. Do you find this plugin 'easy to use'?
Absolutely, just choose your colours and you're away. I use the 'open a URL' checkbox so that when someone clicks on my map on a section I've written about then it links directly to my country guides. An amazing feature.
4. Are you a technical specialist or just a WordPress user?
Just a WordPress user, I don't know how to code of anything highly technical.
5. Is it complicated or simple enough to work with as a WordPress user?
It's simple. If you can get your head around WordPress, then this plugin is easy to figure out.
6. If you have used other map plugin before, then what it is the difference you feel after using this plugin?
I use Google maps to build city guides etc, but prefer the responsiveness of this for a world map.
7. What features of the plugin do you like? Any feature that stands out?
I like that you can link to your own content, and also add dots of 'points'. I use it to highlight islands such as Seychelles, but you could do it for things like city guides if you wanted to.
8. Have you faced any difficulties using this plugin at any point?
None
9. Are there any issues in responsive mode?
Not that I've noticed
10. How can we make it better? Any suggestions?
I'd like to see a version based on the Traveller's Century Club list of territories as this is how I measure my countries visited. http://travelerscenturyclub.org/countries-and-territories. This splits down into smaller states, for example, the UK would be split into England, Wales, Scotland and Northern Ireland. This would give me more flexibility with my country guides.
11. Are you satisfied with the World Map Plugin?
Absolutely, a fantastic way to enhance my blog for readers.
Blog: https://thesabbaticalguide.com/travel/#_Destinations
If you have any queries and suggestions to improve our products and improve the user experience, then you can always reach out to us. We are open to taking all sorts of suggestions. If you are facing any issues in using this plugin, you can check out our guidelines and get in touch with us at our support form.
---