Version 2.9.8 of premium interactive maps plugins is released!
Premium interactive maps plugins version 2.9.8. What's new?
We are glad to inform you about the release of a new version of premium one-level interactive maps plugins from Fla-shop.com! This release contains:
CSV export/import
code optimizations
bug fixes
other improvements
This update concerns such products as "US Map for WordPress", "World Countries Map for WordPress". It includes also all the other one-level interactive map plugins from Fla-shop.com.
Detailed overview of version 2.9.8 premium interactive maps
In order to extend the plugin functionality and to improve the convenience for our users, we embedded the support of settings import/export via CSV spreadsheets. Using these spreadsheets gives many advantages:
possibility to import the information from contact databases;
possibility to delegate map settings in CSV to someone;
improves the map configuration speed;
possibility to import the data to test map, while the interactive map on a production website stays intact.
Using spreadsheets with interactive maps can be really convenient for users, who often works with MS Excel, OpenOffice Calc, and other spreadsheets editors. Moreover, the configuration of the interactive map with CSV files can really take only a few minutes, especially if all necessary data is placed in a spreadsheet as on a screenshot below.

As you can see from the screenshot below all instruments for CSV export/import are now placed at the separate tab. You can also choose the delimiter for resulting file in "additional options" tab.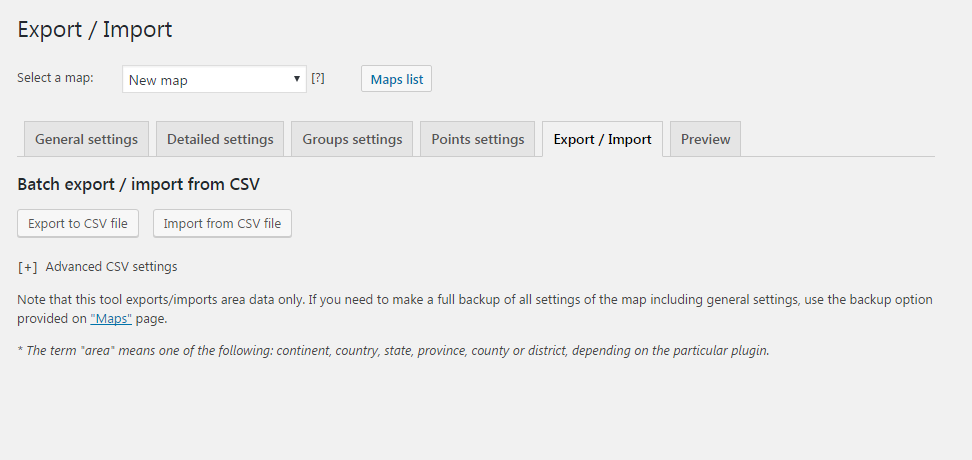 Other improvements
Another improvement of Interactive Maps plugins v. 2.9.8 is "Minimize code output" checkbox, which you can find on a "General Settings" tab. While this option is on, the map source code on a WordPress website post/page (where the shortcode is) displays as a single string. Furthermore, it can help to avoid the conflicts with some WordPress templates and page builders, which add the HTML line breaks everywhere, even into JS code. So this problem was seldom, but now it is completely eliminated.
Conclusion
In conclusion, we want to say that Fla-shop.com always works for the convenience of customers and new version 2.9.8 of premium map plugins proves it one more time. Watch for future updates on our Facebook page and follow us on Twitter!
---