Create a visited countries map for WordPress with a few clicks!
Introduction
Traveling is maybe one of the most popular hobbies in the world. Every year, many people visit different countries and share their impressions with friends on their personal WordPress powered websites. As a result, the most popular question for them is: "How can I organize the geographical-related content in a more efficient and accurate way?". With a visited countries map, of course!
Certainly, one of the best ways to solve this problem is an interactive HTML5 map. Adding just a little shortcode can easily transform a website into a popular web project and completely improve its usability. Also, WordPress is a modern platform that can relieve the user from needing to dive into programming languages and concepts; interactive HTML5 maps are now available as separate plugins. Furthermore, the installation takes no longer than 5 minutes!
What is Visited Countries map?
A visited countries map is a tool for an interactive map that gives the website owner an opportunity to easily check-in to places where he was while traveling. For example, the user can create a map called "Traveling Season 2019" where he can mark some countries that he visited during the summer.

What is World countries Interactive HTML5 Map for WP plugin from Fla-shop.com?
The Interactive World Map plugin for WP is useful for many different industries, such as: real-estate companies, regional dealers, and also travelers. Users can add all necessary information to an interactive map with a few clicks. Consequently, this plugin is the best way to make your own visited countries Map!
10 functions of the plugin that eases creating a map of the countries you have visited
The Interactive World Map plugin for WordPress can accomplish a lot. Some functions that may help you to create a Visited Countries Map are:
standard WordPress interface, for usage that does not require coding knowledge
easy integration of the map to a post, page, widget or WordPress template
create and edit multiple countries simultaneously using 'Bulk Edit'
opportunity to create several interactive maps at the same time
ability to customize maps with different colors
modify information to various regions with popups, and even insert customized links into the region of choice
inserting a link to any country on the map,
merge countries into regions (groups)
able to simultaneously edit merged group settings of the countries of those merged groups
display lists of the countries
easy import and export of settings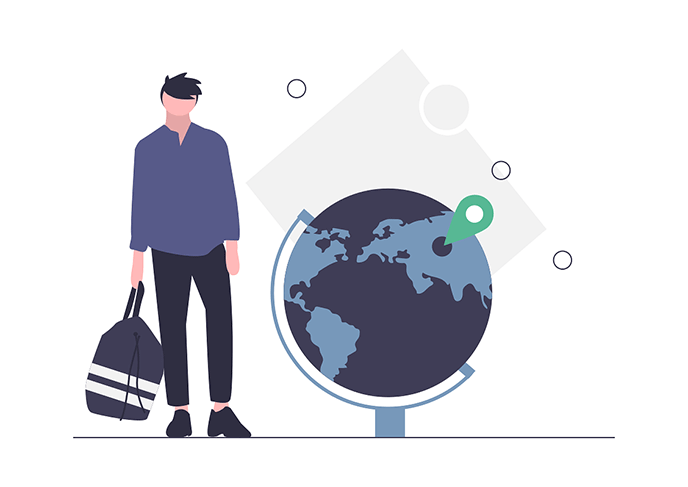 Why Fla-shop.com?
Fla-shop.com may not be the only map-generating plugin out there, but we feel that we are the best.
There are other map sites you can use, but in our opinion, they have more limitations than our plugin. Some of them are:
Shooow Me
My World Map
Virtual Tourist
Travbuddy
Douweosinga
Those sites have online generators with simple interfaces and a few configurations, however, not all of them can create interactive graphics like ours can, they generate just a static image. World maps of the different services vary by the number of countries represented (some small or unrecognized nations are missing). Some sites generate small images: Douweosinga service, for instance, provides maps with a maximum resolution of 450px × 300px.
Fla-shop.com Company has worked in the market of interactive maps since 2006. By solving problems and realizing the ideas of our clients we created modern interactive maps for WordPress, which are
Retina-ready,
Optimized for mobile devices,
Easy to install and embed,
Easy to configure.
All of our interactive maps are carefully tested with many mobile devices and desktop computers!
Here are some examples of travel blogs that use the Interactive World map for WP plugin
Travelers from different countries of the world use our plugin to represent "traces" of their journeys on the world map. They can customize their maps according to their liking.
For instance, on the French travel and lifestyle blog "Love live travel", the map is configured in green tones.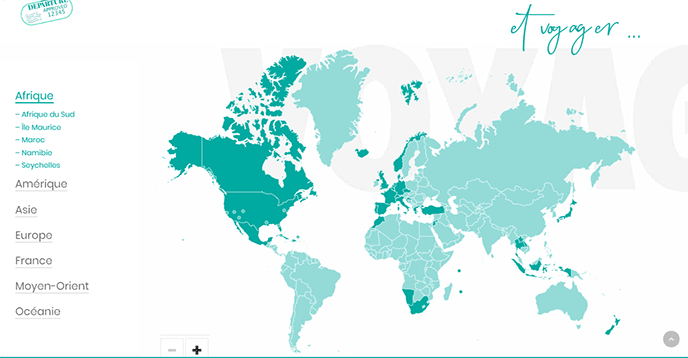 How to create a Visited Countries Map with our plugin (using 'Groups settings')?
As we mentioned earlier, the process of installing our WordPress plugin and creating a map is easy. So easy that it takes only 3 minutes! If you need proof, we will show you a short video which demonstrates creation, configuration, and publication of a map of the countries you have visited using the capabilities of the 'Group settings':
That sounds good, doesn't it?
How to create and configure a map of the visited countries via 'BULK EDIT' Interactive World Map plugin for WordPress
Download Interactive HTML5 World Map plugin for WordPress and follow the standard installation instructions (WordPress Dashboard → 'Plugins' → 'Add New' → 'Upload Plugin' → select the uploaded archive (worldcountrieshtmlmap.zip) → 'Install Now' → 'Activate Plugin').
Create a new world map, for instance: Destinations (WordPress Dashboard → 'World Map' → 'Maps' → 'Add a new map').
Change the color of the created world map to a more muted one, or your color of choice ('World Map' → 'Detailed Settings' → select any region → Choose on map → change color setting on the field 'Area color' and 'Area hover color' and check the checkboxes next to 'Apply to all areas' → 'Save Changes').

Using Bulk Edit customize the color of the visited countries ('World Map' → 'Detailed Settings' → 'Bulk Edit' → check the checkboxes next to the names of the required countries → activate the 'Colors' sections and change color settings on the field 'Area color' and 'Area hover color' → 'Save Changes').

Add hyperlinks to the countries ('World Map' → 'Detailed Settings' → select the required country → check the box 'Open a URL' → paste the URL to a 'URL' field → 'Save Changes').
You can add links to posts, category pages, etc.

Check your map before publishing ('World Map' → 'Preview').
Copy the shortcode of the map on the 'Preview' tab or in map list 'World Map' → 'Maps') and paste it to the required post, page, or widget.

If your WordPress theme installed on your site does not support shortcodes in the post, pages, or widgets, paste the required shortcode to the required template via the help of PHP.
Conclusion
The process of creating an interactive Visited Countries Map for a WordPress powered website has never been so easy and convenient. Visit the plugin homepage for additional information by using Fla-shop.com. We think you have made the right decision!
---