Interactive HTML5 Maps
Interactive HTML5 maps belong to a new generation of interactive tools used to enhance website user experience. Based on SVG and JavaScript, these maps are mobile-friendly and easily integrated into your website.
The maps are fully compatible with Chrome, Firefox, Safari, iPad/iPhone/Android, IE8+, and Microsoft Edge.
If your website uses
WordPress
, we offer simple and functional plugins that feature visual settings interface (no coding required).

Locator HTML5 Maps
The following interactive maps are designed for plain HTML websites as well as websites based on Bootstrap and other frameworks.
WORLD MAPS
UNITED STATES MAPS
COUNTRY MAPS
Main applications
Branch/dealer network
Distributors
Sales regions
Delivery coverage
Website navigation
Presentation of statistical data
Interactive infographics
Features
Responsive
Based on SVG vector format
Compatible with all desktop browsers
Work on iPhone, iPad and Android devices
Customizable colors
Customizable links
Place custom markers on the map
Add tooltips for any state or marker
Place pictures and text inside tooltips
JavaScript API
Drill-down HTML5 Maps
These are multi-level maps with clickable areas that on click open a detailed map of the selected area.
WORLD MAPS
UNITED STATES MAP
Showcase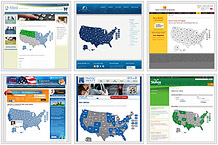 Custom HTML5 Maps
If you don't feel completely satisfied with the maps we already have on our site and if you require some specific functionality or wish to modify a map in a special way, take advantage of our
custom map development services
.