Interactive JavaScript Maps
Italy Provinces Interactive Map for WordPress
Interactive HTML5 Italy Map premium plugin for WordPress featuring province selection, color adjustments, custom landing pages and popup windows.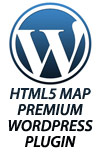 Options when you click on the map
Opening the link
You can assign different links when clicking on the map - a link to another page or site, a link to a file, or a link to a section on the same page.
Display content next to the map
Show any content to the right or bottom of the map after the click. For example, it may be contact information. Content may contain text, images, links, and shortcodes of third-party plugins. Automatic scrolling.
Show a lightbox popup
Show the lightbox popup when clicking on the map. The plugin has built-in integration with the popular Popup Builder plugin.
Interaction with tooltip
Show the tooltip with the content when you hover the cursor on the map. You can add the text, images, links, etc. inside the tooltip.
Features
Responsive HTML5 map of Italy
Works on iPad, iPhone, Android
Clickable provinces
Popup windows that show when the mouse cursor is over it
Can display additional information below or right of the map
Adjustable colors of the map and each region individually
Customizable click behavior
Customizable landing page links
Builds into any WordPress page or post as a simple shortcode
Without link "Map by Fla-shop.com"
Italy Provinces Interactive Map for WordPress. Single License

Support included
$99 US (one-time fee)
Overview
Show your clients where you are in Italy! This interactive HTML5 map installs on any WordPress site in minutes and delivers clear and intuitive display of your company geography, the nearest dealers, reps and offices in Italy. Simple and powerful control panel is for you.
Screenshots
The list of maps. Here you can view and configure HTML5 maps. The number of maps you can create is unlimited.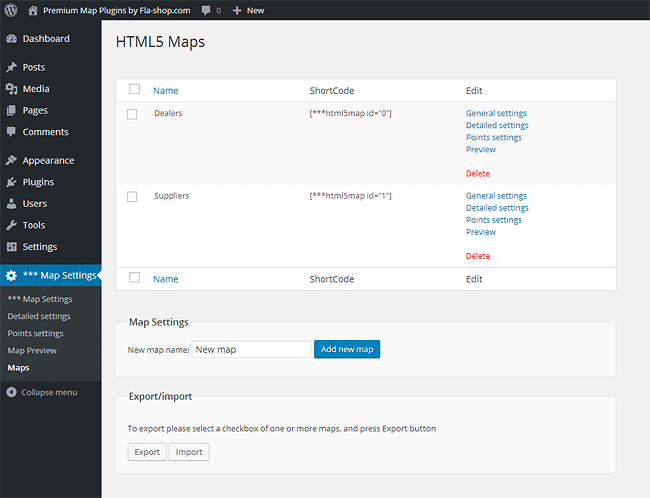 General settings tab. Adjust dimensions, fonts and general map capabilities.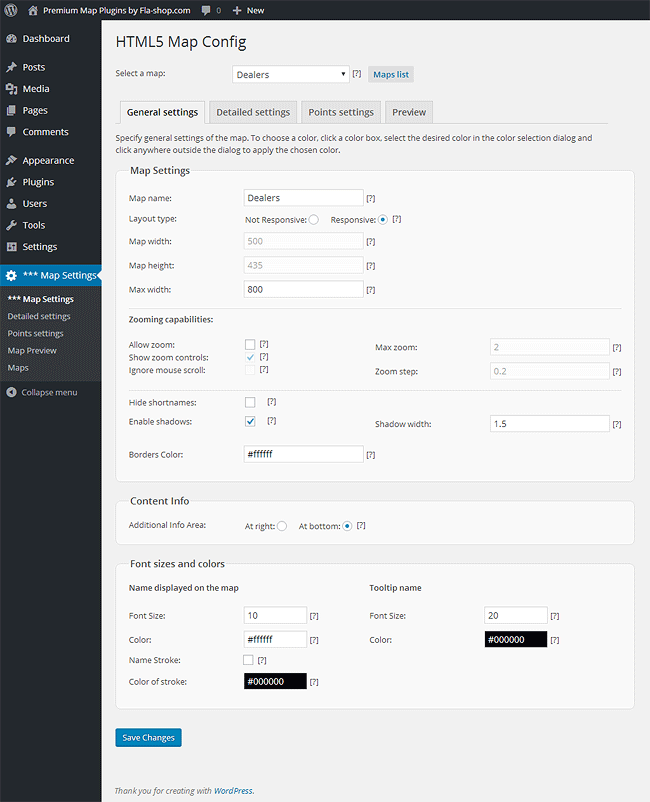 Detailed settings tab. Configure individual counties, add links and popup balloon contents.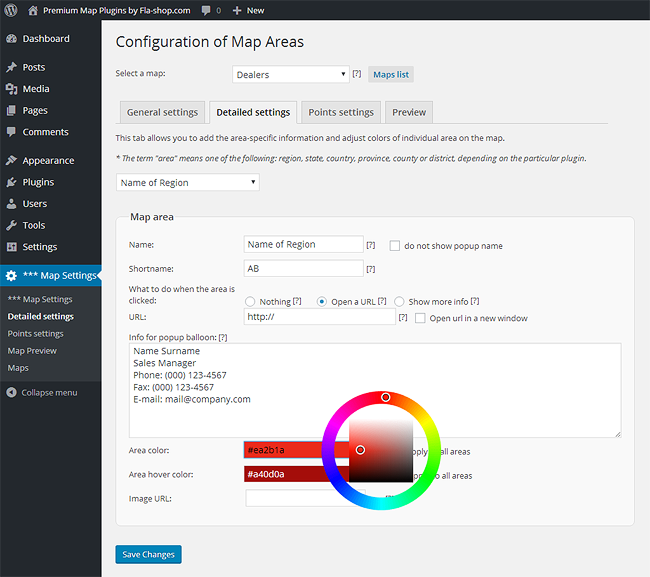 Map areas configuration. You can add area-specific information here displayed side-by-side with the map.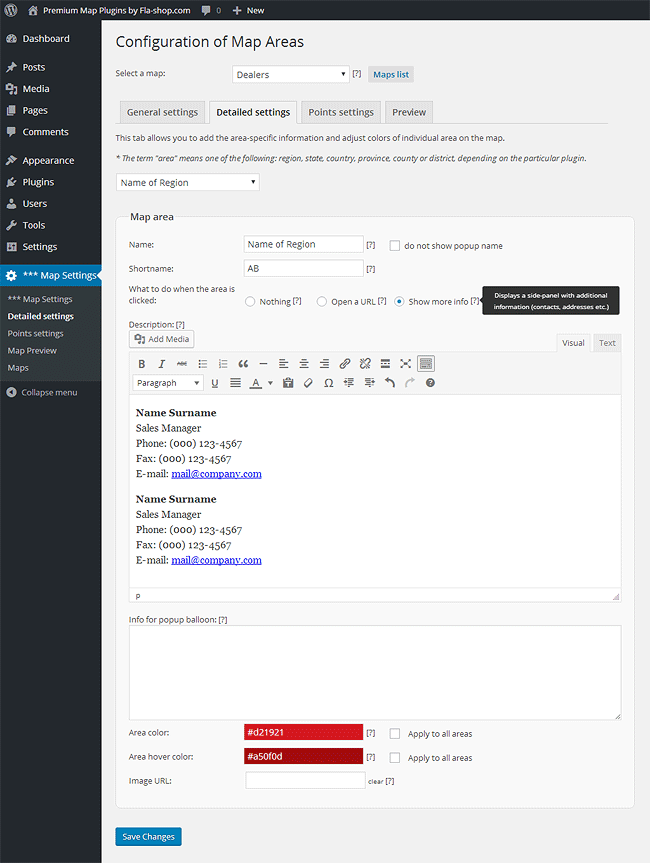 Points settings tab. Here you can add map points indicating cities, offices, local dealer and so on.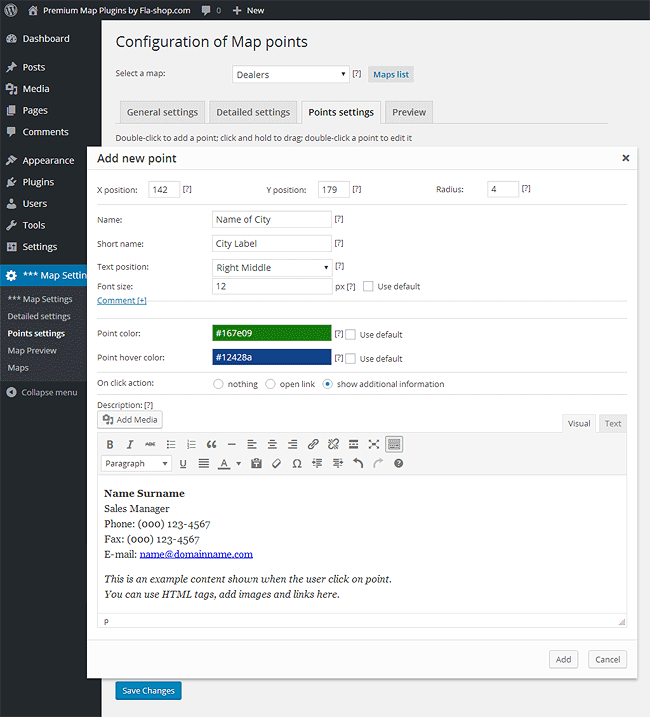 Installation
Use the Plugins -> Add new -> Upload menu and select plugin's zip file to open.
Wait for the upload to complete and activate the plugin.
After that, insert the map short code into the text of a page or a post where you want the map to be. Short codes can be viewed on tab "Maps".
Alternatively, upload the folder of the plugin to your
/wp-content/plugins/
folder then follow steps 2 and the rest as above.
The list of provinces on the map of Italy
Agrigento, Alessandria, Ancona, Aoste, Arezzo, Ascoli Piceno, Asti, Avellino, Bari, Barletta-Andria Trani, Belluno, Benevento, Bergamo, Biella, Bologna, Bozen, Brescia, Brindisi, Cagliari, Caltanissetta, Campobasso, Carbonia-Iglesias, Caserta, Catania, Catanzaro, Chieti, Como, Cosenza, Cremona, Crotene, Cuneo, Enna, Fermo, Ferrara, Firenze, Foggia, Forli-Cesena, Frosinone, Genova, Gorizia, Grosseto, Imperia, Isernia, La Spezia, L'Aquila, Latina, Lecce, Lecco, Livorno, Lodi, Lucca, Macerata, Mantova, Massa-Carrara, Matera, Medio Campidano, Messina, Milano, Modena, Monza e Brianza, Napoli, Novara, Nuoro, Ogliastra, Olbia-Tempio, Oristrano, Padova, Palermo, Parma, Pavia, Perugia, Pesaro e Urbino, Pescara, Piacenza, Pisa, Pistoia, Pordenone, Potenza, Prato, Ragusa, Ravenna, Reggio Calabria, Reggio Emilia, Rieti, Rimini, Roma, Rovigo, Salerno, Sassari, Savona, Siena, Siracusa, Sondrio, Taranto, Teramo, Terni, Trapani, Trento, Treviso, Trieste, Turin, Udine, Varese, Venezia, Verbano-Cusio-Ossola, Vercelli, Verona, Vibo Valentia, Vicenza, Viterbo
Products
Live Examples of this Map
Custom Development
Fine tune the map for the best fit and custom capabilities not available in standard maps.
More info
---
---