WordPress Világtérkép
Want to create a world map for WordPress site with the names of countries in Hungarian?
We offer a free language pack for the plugin
World Map for WP
.
Download the language pack
Download the file worldcountries-hu.zip.
Extract the worldcountries-hu.json file from the ZIP file.
Import the JSON file on the Maps Dashboard page in the plugin.

Detailed guide with screenshots can be found in the post How to Make a World Map with Localized Country Names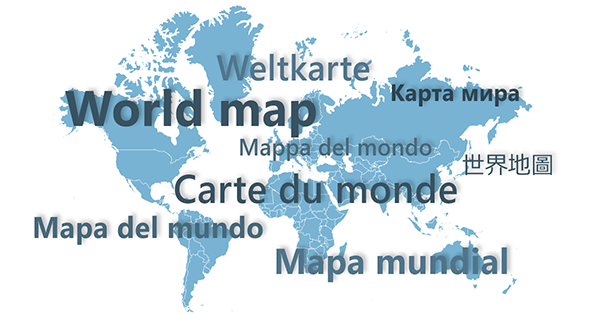 List of country names in Hungarian
Afganisztán
Åland-szigetek
Albánia
Algéria
Amerikai Szamoa
Amerikai Virgin-szigetek
Andorra
Angola
Anguilla
Antarktisz
Antigua és Barbuda
Argentína
Aruba
Ausztrália
Ausztria
Az Amerikai Egyesült Államok lakatlan külbirtokai
Azerbajdzsán
Bahama-szigetek
Bahrein
Banglades
Barbados
Belarusz
Belgium
Belize
Benin
Bermuda
Bhután
Bissau-Guinea
Bolívia
Bosznia-Hercegovina
Botswana
Bouvet-sziget
Brazília
Brit Indiai-óceáni Terület
Brit Virgin-szigetek
Brunei
Bulgária
Burkina Faso
Burundi
Chile
Ciprus
Comore-szigetek
Cook-szigetek
Costa Rica
Csád
Csehország
Curaçao
Dánia
Dél-afrikai Köztársaság
Déli-Georgia és Déli-Sandwich-szigetek
Dél-Korea
Dél-Szudán
Dominika
Dominikai Köztársaság
Dzsibuti
Ecuador
Egyenlítői-Guinea
Egyesült Államok
Egyesült Arab Emírségek
Egyesült Királyság
Egyiptom
Elefántcsontpart
Eritrea
Északi Mariana-szigetek
Észak-Korea
Észtország
Etiópia
Falkland-szigetek
Feröer-szigetek
Fidzsi
Finnország
Francia Déli Területek
Francia Guyana
Francia Polinézia
Franciaország
Fülöp-szigetek
Gabon
Gambia
Gázai övezet
Ghána
Gibraltár
Görögország
Grenada
Grönland
Grúzia
Guadeloupe
Guam
Guatemala
Guernsey
Guinea
Guyana
Haiti
Heard-sziget és McDonald-szigetek
Holland Karib-térség
Hollandia
Honduras
Hongkong KKT
Horvátország
India
Indonézia
Irak
Irán
Írország
Izland
Izrael
Jamaica
Japán
Jemen
Jersey
Jordánia
Kajmán-szigetek
Kambodzsa
Kamerun
Kanada
Karácsony-sziget
Katar
Kazahsztán
Kelet-Timor
Kenya
Kína
Kirgizisztán
Kiribati
Kókusz (Keeling)-szigetek
Kolumbia
Kongó – Brazzaville
Kongó – Kinshasa
Koszovó
Közép-afrikai Köztársaság
Kuba
Kuvait
Laosz
Lengyelország
Lesotho
Lettország
Libanon
Libéria
Líbia
Liechtenstein
Litvánia
Luxemburg
Macedónia
Madagaszkár
Magyarország
Makaó KKT
Malajzia
Malawi
Maldív-szigetek
Mali
Málta
Man-sziget
Marokkó
Marshall-szigetek
Martinique
Mauritánia
Mauritius
Mayotte
Mexikó
Mianmar (Burma)
Mikronézia
Moldova
Monaco
Mongólia
Montenegró
Montserrat
Mozambik
Namíbia
Nauru
Németország
Nepál
Nicaragua
Niger
Nigéria
Niue
Norfolk-sziget
Norvégia
Nyugat-Szahara
Olaszország
Omán
Örményország
Oroszország
Pakisztán
Palau
Palesztin Terület
Panama
Pápua Új-Guinea
Paraguay
Peru
Pitcairn-szigetek
Portugália
Puerto Rico
Réunion
Románia
Ruanda
Saint Kitts és Nevis
Saint Lucia
Saint Martin
Saint Vincent és a Grenadine-szigetek
Saint-Barthélemy
Saint-Pierre és Miquelon
Salamon-szigetek
Salvador
San Marino
Sao Tomé és Príncipe
Seychelle-szigetek
Sierra Leone
Sint Maarten
Spanyolország
Srí Lanka
Suriname
Svájc
Svalbard és Jan Mayen
Svédország
Szamoa
Szaúd-Arábia
Szenegál
Szent Ilona
Szerbia
Szingapúr
Szíria
Szlovákia
Szlovénia
Szomália
Szudán
Szváziföld
Tádzsikisztán
Tajvan
Tanzánia
Thaiföld
Togo
Tokelau
Tonga
Törökország
Trinidad és Tobago
Tunézia
Türkmenisztán
Turks- és Caicos-szigetek
Tuvalu
Uganda
Új-Kaledónia
Új-Zéland
Ukrajna
Uruguay
Üzbegisztán
Vanuatu
Vatikán
Venezuela
Vietnam
Wallis és Futuna
Zambia
Zimbabwe
Zöld-foki Köztársaság
---