Interactive JavaScript Maps
US Interactive HTML5 Map for WordPress
Interactive HTML5 US Map premium plugin for WordPress featuring state selection, color and font adjustments, links and pop-ups.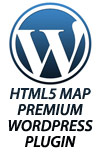 Try FREE demo
Live demo of US interactive map premium plugin for WordPress allows you to test the full plugin capabilities before buying.
Login: demo, password: demo
Description
Put an interactive high-quality HTML5 map of the USA to your WordPress powered website! Whenever you need to give your visitors a simple yet effective way to navigate through regional sections of your website, or if you want to provide some geography-related information to your visitors, Fla-shop.com interactive HTML5 map plugin is a one-stop solution. The plugin allows you to display a detailed map by simply adding a special shortcode into the main content of a page or a post. Thanks to visual editing of map's properties and effortless installation, the map can be deployed in merely few minutes.
The Interactive US Map plugin is compatible with any WordPress theme, including popular Divi and Avada themes. It is also compatible with any Page Builders such as Elementor, Gutenberg, Visual composer, and others.
The main use cases for an interactive map are creating a sales rep map, convenient navigation on the real-estate and catalog sites, interactive infographics, and data visualization.
Features
Detailed HTML5 map of the USA
Works on iPad, iPhone, Android. No Flash
Responsive
Clickable states
Tooltips windows that show when the mouse cursor is over it
Can display additional information below or right of the map
Adjustable colors of the map and each state individually
Customizable click behavior
Customizable landing page links
Builds into any WordPress page or post as a simple shortcode
Place points on the map via visual editor
Display lightbox popup on click *
NEW: Show the list of states next to the map
NEW: Create your own regions by grouping states based on geography of your business
NEW: Export/import data via CSV (spreadsheets)
* requires installing a free third-party plugin to configure lightbox
Screenshots
The list of maps. Here you can view and configure HTML5 maps. The number of maps you can create is unlimited.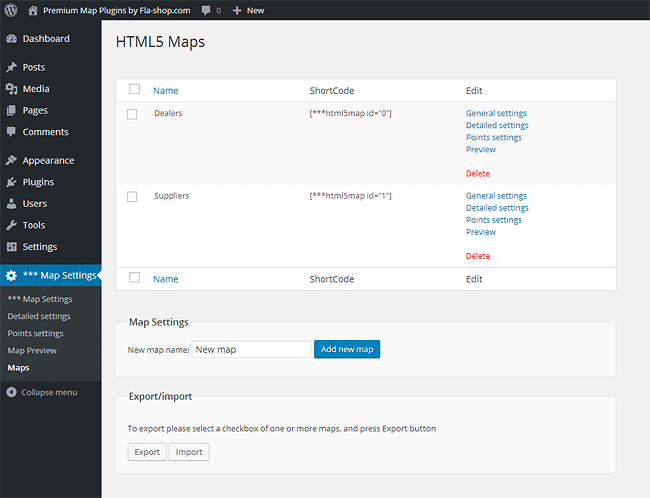 General settings tab. Adjust sizes, fonts and general map capabilities.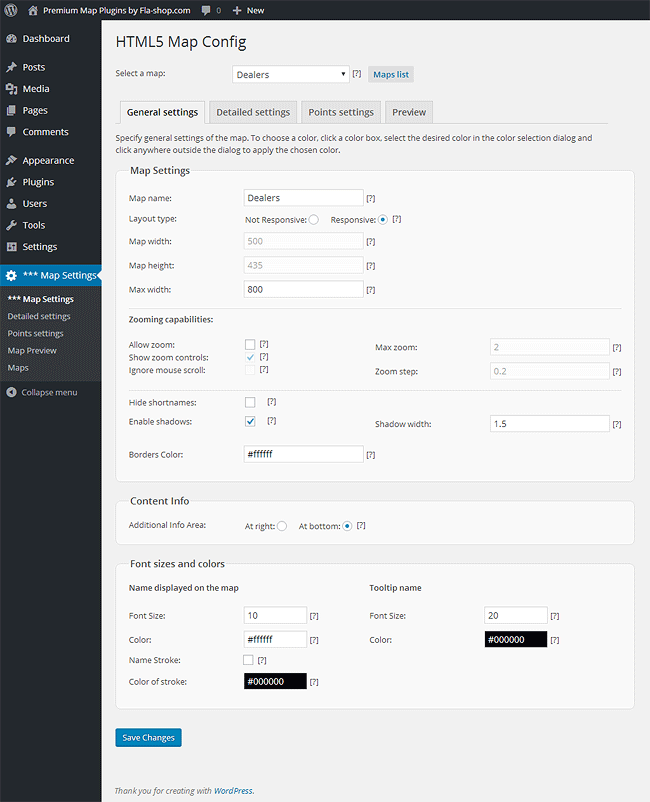 Detailed settings tab. Configure individual states, links and popup balloon contents.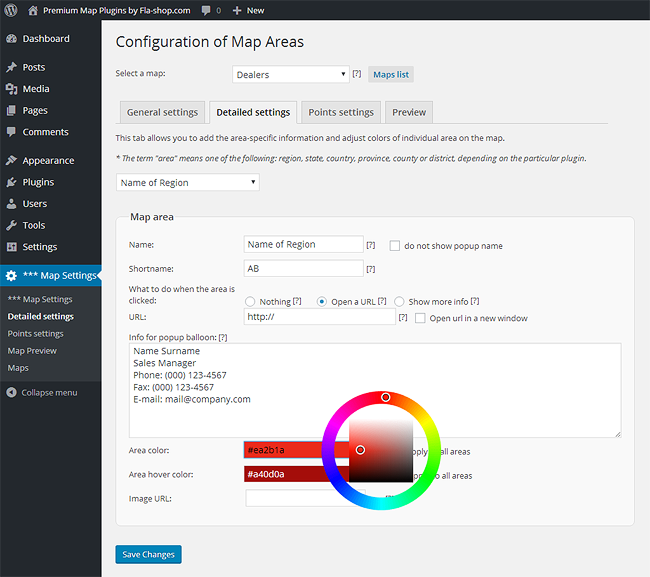 Preview tab. This is how the popup balloon looks like. You can display images and use HTML tags here.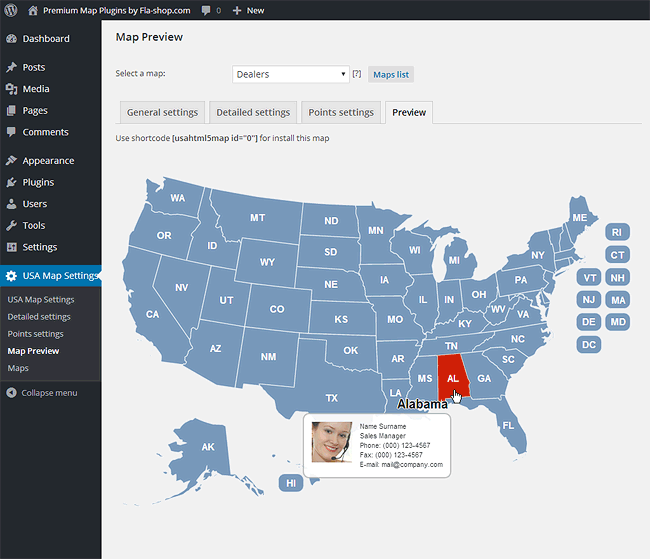 Map areas configuration. You can add state-specific information here displayed side-by-side with the map.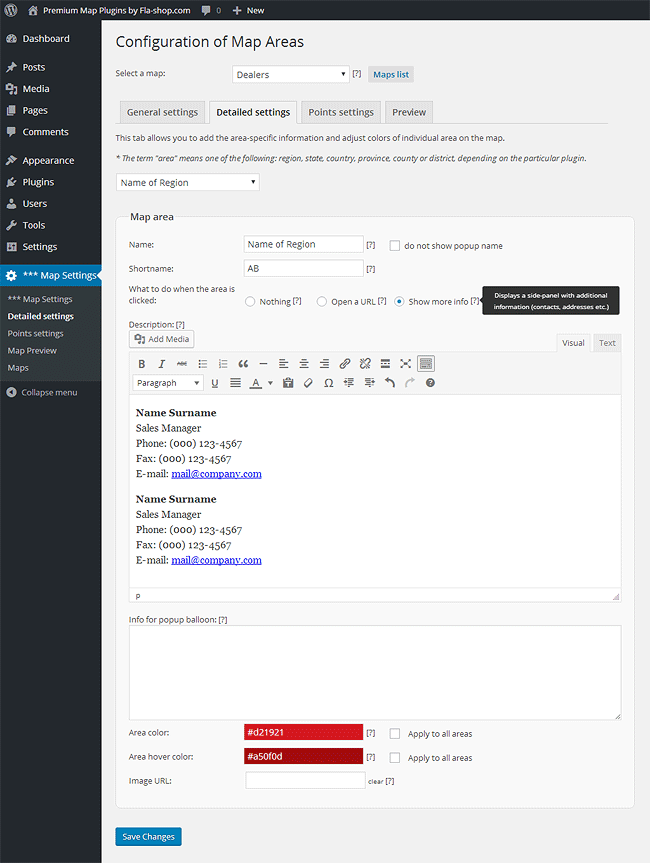 Preview tab. This is how the side-panel info look like.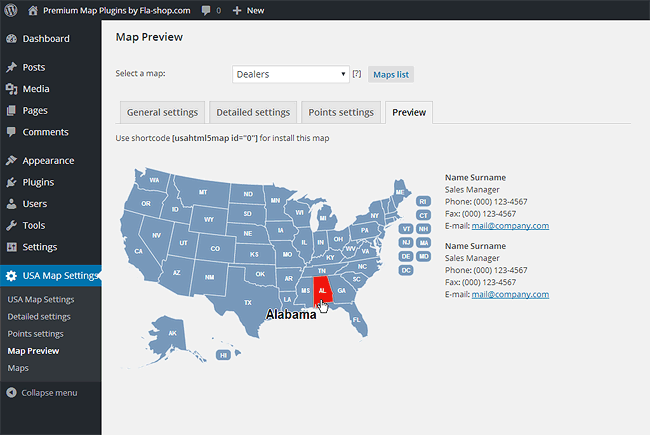 Points settings tab. Here you can add map points indicating cities, offices, local dealer and so on.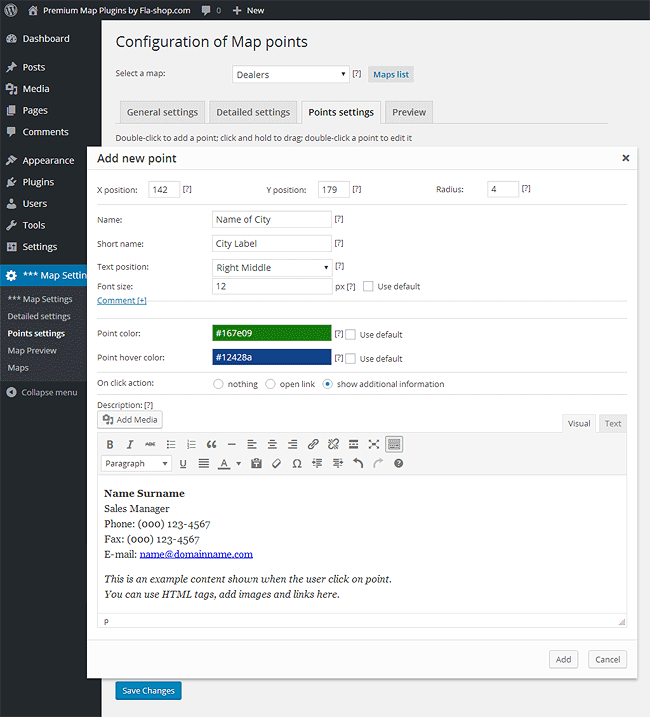 This is how the point looks like. You can also display a popup balloon when a user hovers the mouse over the point.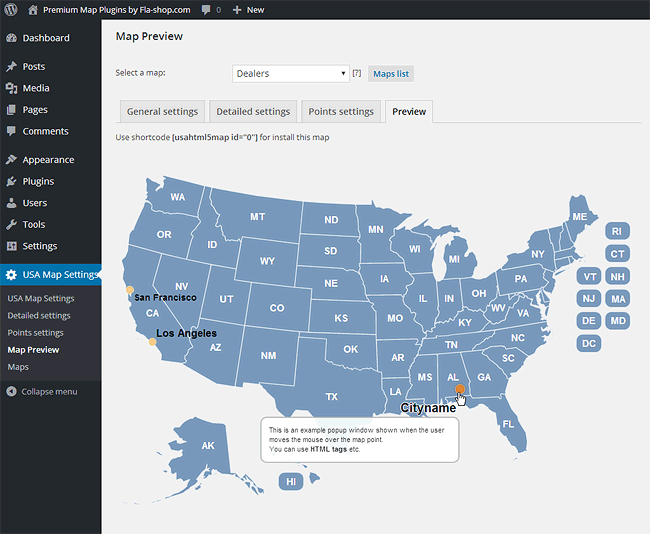 Installation
Use the Plugins -> Add new -> Upload menu and select plugin's zip file to open.
Wait for the upload to complete and activate the plugin.
After that, insert the map short code into the text of a page or a post where you want the map to be. Short codes can be viewed on tab "Maps".
Alternatively, upload the folder of the plugin to your
/wp-content/plugins/
folder then follow steps 2 and the rest as above.
Single License
US Interactive HTML5 Map for WordPress
$69 US (one-time fee)
Products
Live Examples
Custom Development
Fine tune the map for the best fit and custom capabilities not available in standard maps.
More info
---
---