Today we will go over the best WordPress Google Maps plugins so that you can figure out which one suits you and your business the most.
Best Map Plugins for WordPress
You need to decide which WordPress maps plugin you'll use by understanding the needs and goals that you need to meet. Depending on your budget, you can decide whether you want a free or a premium plugin. Let's explore the top 10 Google Maps plugins for your WordPress.
1. WP Go Maps
The WP Go Maps is very popular because it offers a simplistic user interface and functionalities. Its easy-to-use interface lets you add and personalize maps for the pages and posts of your website.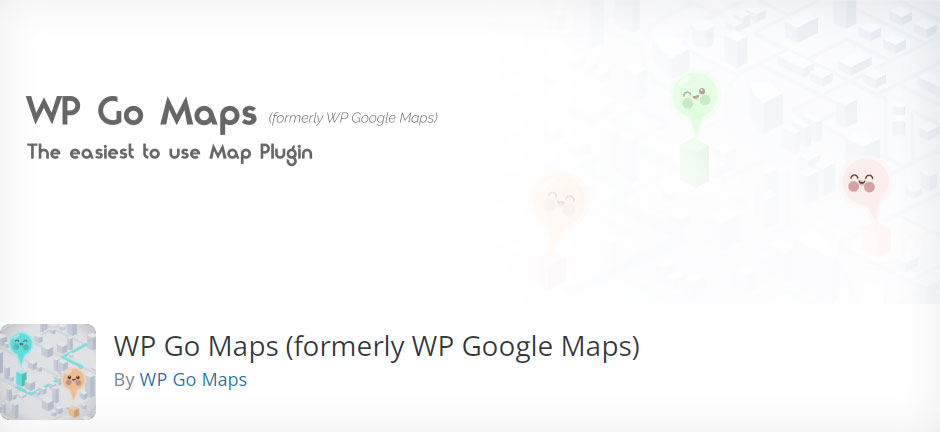 WP Go Maps benefits:
This plugin is simple, easy to use, and doesn't require you to have any coding knowledge to configure maps. You can even choose to use both Open Layer Maps and Google Maps.
Using this plugin, you can easily add custom markers to your maps.
This plugin also supports Google Maps Streetview, roadmap, terrain, satellite, and hybrid views.
The maps are responsive, can automatically adapt to any device or screen size, and supports full-screen maps.
You can also choose from 9 popular map themes or create a map yourself according to your preferences.
You'll get the support of UTF-8 characters.
You can easily customize routes on your maps by adding custom polylines and Polygons.
With this plugin, you can configure the custom locations and even animate map markers, so your visitors get a better-visualized experience. And the best thing about this plugin is that it just takes seconds to create a single map!
Moreover, you can embed Polylines and Polygons in the maps. You won't be bothered with advertising, even if you use the free version, and you can also set the maximum amount of zoom. Even caching plugins and Cloudfare are also compatible with this plugin.
In addition, you don't need to settle for a single map. You can add multiple maps and let your website visitors get pointed toward the markers you set.
Furthermore, you can even add links, images, descriptions, and categories to your marker. Even the markers can be categorized by filters. Choose the icons of your markers to make the maps stand out more. You can list the markers as a basic list, carousel, basic table, or advanced table. There isn't anything that you won't love about this plugin.
2. Maps Widget for Google Maps
If you need a WordPress map plugin with different options for Thumbnail Google map, interactive Google map, and enough pin options, Maps Widget for Google Maps is the WordPress Google maps widget that you should try.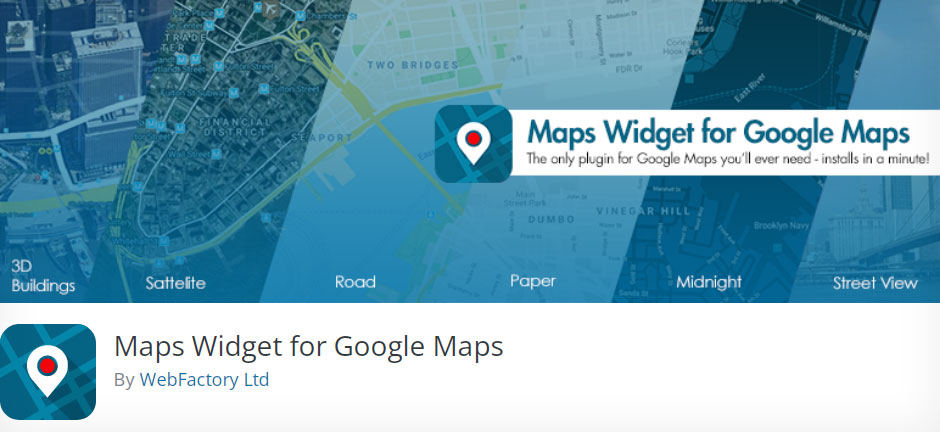 Let's look at the advantages of this widget:
If you need a custom size for your maps, this widget will provide you with that.
You will get the opportunity to choose from different levels of zoom options with this widget.
With this widget, you can choose and customize the color theme, as it has many color themes to pick from.
You can even customize the color schemes.
It's up to you which kind of pin colors, sizes, and types you want from this widget.
You can even choose whether you want to add your text above or below the map with this widget.
The Google Maps Widget is another WordPress interactive map plugin that has been around for more than four years. With a 100,000+ user base, it's easily one of the most used google maps currently on the market. So there's no need to worry about its functionality.
This Widget comes in two versions: a free version and a pro version. The free version is easy to use, does the job, and is very basic. It's customizable and fast, so you don't need to worry about its loading problems, as it loads maps seconds after opening the page.
On the other hand, the pro version loads maps faster than most other plugins. And the best thing about the pro version is that it doesn't slow down your website, even if you set up several pins across multiple continents.
The way it reduces the loading speed is that it loads as an image when customers first load your page, then it loads as the interactive map. You can easily customize pins, colors, and logos. Plus, you can tap straight into the features of Google Maps using this widget.
3. Maps Marker Pro
The Maps Marker Pro is one of the best WordPress Google Maps plugins in the market. Its function enables you to make geographical locations for your website.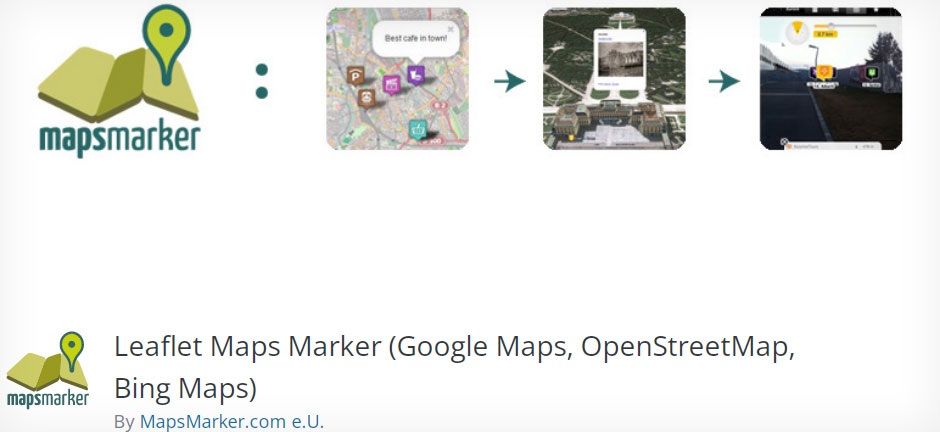 Take a look at the advantages of Maps Marker Pro:
You can add maps to your pages, templates, widgets, and posts just by using shortcodes.
If you want to, you can customize the display icons from within the plugin.
With this plugin, you can easily choose the base maps, such as Google Maps, Mapbox, Open Street Map, custom WMTS maps, and Bing.
You can easily bulk export and import maps using file types such as CSV and XLSX.
It's easy to embed your map's QR codes into things like packaging and products.
You can display detailed information about routes with distance, duration, and elevation using Maps Marker Pro.
There are more than a thousand icon options in this plugin that you can choose from for representing a single location. You can even add text in pop-up windows if you want to. Creating marker clusters is easy using this plugin.
For example, if your customer wants to know where they can purchase your site's products locally, you can identify every single region of your city where the products are available using clusters. This way, your customers will find the locations of each store within every region.
Even the layers are customizable, which you can use to point your customer to the restaurants and stores that carry your products. Moreover, you can add several maps to indicate different routes.
You don't even have to pay one cent for testing these features before you make a commitment. Just activate the 30-day trial, and you are good to go! And, if you pay a license fee just once, you'll be able to enjoy all these features of the Maps Marker Pro plugin.
4. MapifyPro
When it comes to different Google map addons, MapifyPro is one of the best options for your website. Its exclusive mapping API sets it apart from the other plugins.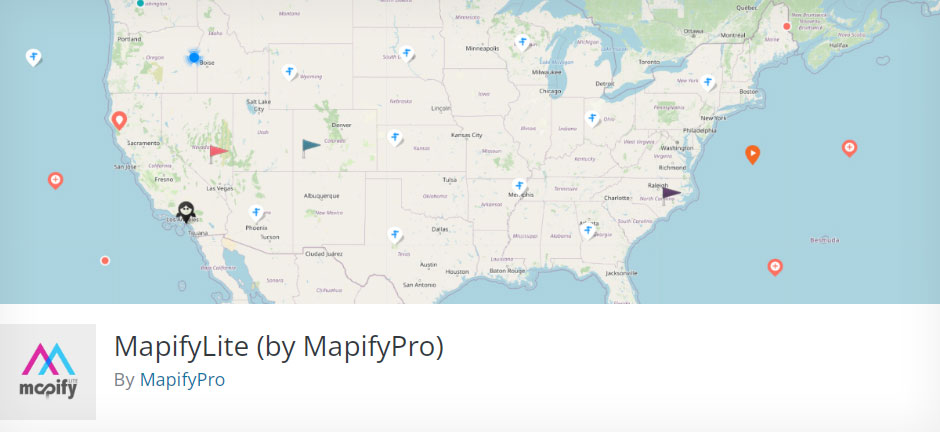 The advantages of MapifyPro are given below:
MapifyPro provides fully customizable maps, including different map location filters.
MapifyPro lets you add an unlimited number of map locations. You can also bulk upload map locations using a simple spreadsheet.
You can add different markers icons to different maps and also set a default marker for every map.
You can configure detailed information in your maps, such as Addresses, phone numbers, and external links to other websites, including Yelp Reviews.
MapifyPro has advanced geo-location embedded in the system, such as the "My Location" option can be configured to look for nearby stores automatically.
There's a special feature that lets your website users find their favorite or nearby coffee and beer shops.
Apart from all the advantages mentioned above, there are more features that make MapifyPro so unique. You can share the locations on social media and maneuver traffic to the map's exact location.
Furthermore, you can do an advanced search by different distances using this WordPress Google map plugin. There's a feature that will auto-suggest the nearest location, and you can even use the "Use your location" option.

Using the custom image mode, you can use any image for your maps. This is great for park maps, conventions, and off-road trails. If you need to match the maps with your brand, you can easily customize almost everything about your maps.
You can embed thumbnail images for customizing tooltips fully. Moreover, you can add interactive location lists beneath your maps for "quick glace" details. Embed film and photography to each of the locations to capture drone footage and adventures.
Not only can you use this plugin for WordPress, but you can also use it for your Shopify if you need to.
5. 5sec Google Maps PRO
At check December 13, 2022 the plugin is not available for purchase, possibly sales will open later.
The 5sec Google Maps PRO WordPress mapping plugin can be used to show limitless Google maps using various pins on your site. It's really customizable if you enter the offered shortcodes.
5sec Google Maps PRO advantages:
The 5sec Google Maps Pro provides innovative, top-notch mapping features and functionalities that can easily satisfy your needs.
You can use their visual map builder, which lets you design your maps the way you want.
The language gets selected automatically so that you don't have to do it manually.
You can add multiple maps to each post on your website.
You can choose the height, width, type, mouse scroll wheels, info layer, and color of every single map. Moreover, you can use the autofit options for each map.
Change every single map's address, pin, description, center, tooltip, directions, icon, and auto-open description.
5sec Google Maps PRO will allow you to set the skin of each map apart from the color, which you can also change. You will get various opportunities to customize every single map separately according to your brand image. This is all thanks to the features that come with this plugin.
You can customize different types of maps like road, satellite, terrain, and even hybrid maps. It's easy to add the info layers to Google Maps, such as traffic, weather, transit, etc.
This plugin allows you to look at Google Maps on the full screen. You will have the option of enabling or disabling the mouse scroll wheel, depending on your preference.
In addition, you can add an address and description bubble on each pin for your maps. And the tooltip will appear when you position your cursor over any image, icon, etc. You can even set pins in the center of a map. What's more, you can animate each pin. And there are 25 predefined icons for the pins.
7. WP Maps Pro
The WP Maps Pro is one of the best Google Maps add-ons because of its functionalities and the simplicity it offers. You can easily add maps to your pages and post and mark multiple locations.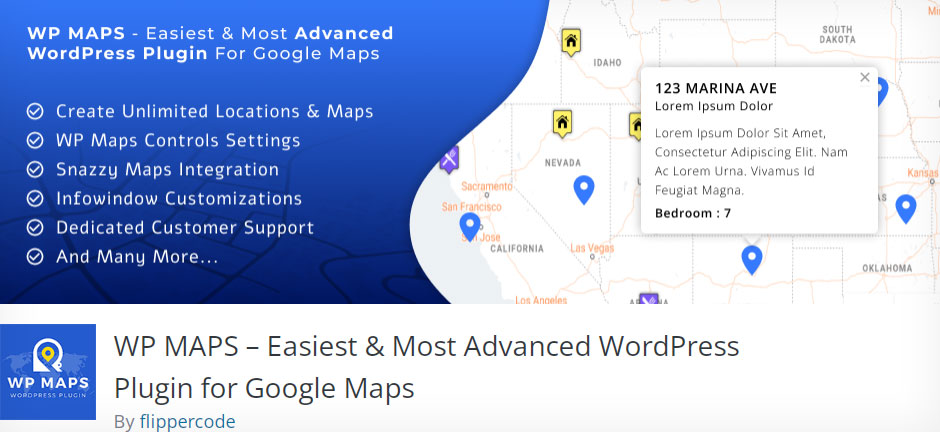 WP Maps Pro benefits:
Using this plugin, you can access different types of Google Maps, such as satellite, roadmap, terrain, and hybrid.
You can set custom widths, heights, and even the map zoom level.
The WP Maps Pro plugin is multilingual, WordPress network-friendly and fully responsive
It can add limitless locations with different information. Plus, it allows you to add multiple locations to each map.
The WP maps pro provides 18+ useful add-ons that can work seamlessly with WordPress Maps.
You can easily import and export location by following simple steps.
Draw and use custom shapes on the map. You can also add information to your shapes.
Using WP Maps Pro, you can add Google Maps to any of the posts on your website with shortcodes very easily. Plus, you are also able to embed buttons to Set markers and Get Directions.
You can access over 500 pre-designed markers, or you can design your own. These markers that you create can contain information such as locations, images, links, directions, descriptions, and categories. You can categorize markers in these four ways: basic table, basic lists, advanced table, or carousel.
You are also able to utilize the routes, delivery areas, contact map pages, and maps that show directions. And you will have both options of choosing Open-layer maps or Google Maps. Moreover, this plugin comes with nine kinds of map themes. Plus, you can also create a new theme by yourself.
You can even add Google Maps to the site of your WordPress or other widget areas. And you get to display the maps on full screens.
8. MapPress Maps for WordPress
The MapPress Maps for WordPress is an amazing plugin for WordPress Google Maps because its maps are fully responsive and its simplicity which lets you integrate maps on your website in minutes. The best thing about this plugin is it has a free version.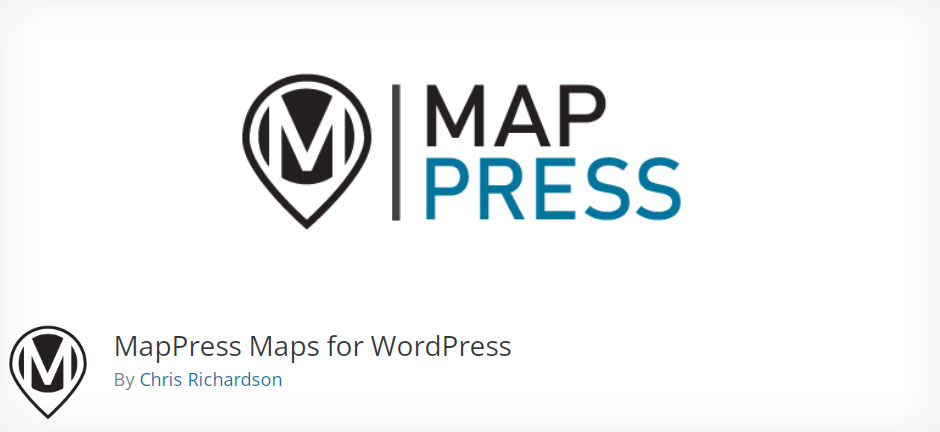 Let's take a look at the features of MapPress Maps for WordPress:
With the MapPress Maps for WordPress plugin, you can access over a hundred custom-made marker styles.
This plugin has an exclusive feature called the 'mashups'. With this feature, you can combine various maps into a single map.
The MapPress Maps for WordPress lets you configure custom clickable lists of different marked locations below your maps.
This WordPress plugin lets you easily configure map widgets on the website sidebar.
You can integrate this plugin with Advanced Custom Fields (ACF).
You can filter locations by taxonomies, categories, and tags.
The WordPress map plugin MapPress Maps is one of the best plugins, as it offers various premium features. This plugin can make configuring and customizing Google Maps to your website a seamless, easy, and effortless process.
This interactive and affordable plugin can embed Google maps into your WordPress websites post or pages. You can access limitless maps even if you use the free version of this plugin. Even the free version allows you to embed multiple maps in each post.
So you don't have to pay a single cent to build your website custom maps for your customers to enjoy. But you have to keep in mind that the pro version allows you to access more advanced features that you can't get from the free version.
It is easy to use and even easier to register for your new account. You just have to choose between two kinds of license options. However, both of the licenses include a year's worth of support and updates.
9. Google Maps Easy
The Google Maps Easy plugin was developed by a well-known brand named Supsystic. It is a great option, especially for Bloggers and Tourism Operators worldwide.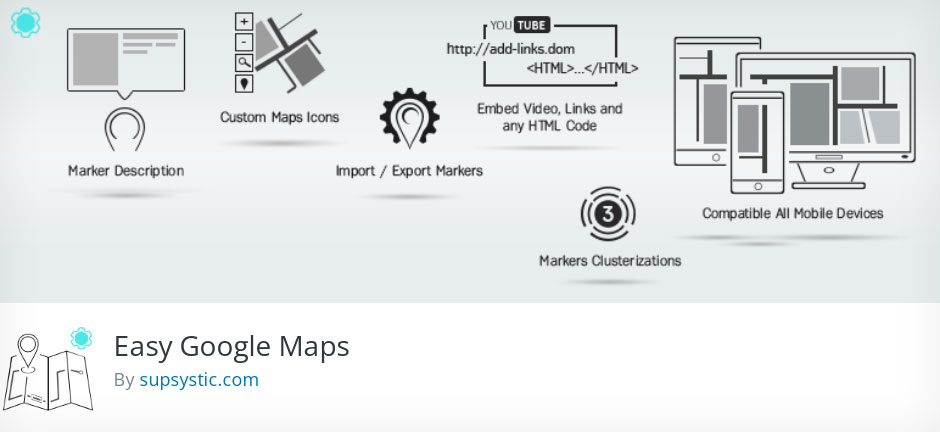 Look at all the features that the Google Maps Easy plugin provides:
With the Google Maps Easy plugin, you can create different types of marker clusters for all the maps you want to configure.
Google Maps Easy plugin allows you to create different categories and filters for each of your maps.
This fully responsive plugin lets you see maps comfortably on small screens such as mobile and tablets.
With this plugin, you can access a font-end editor that lets you customize maps visually on your website.
You can also configure Info windows on the Google Maps Easy plugin to display different information about specific locations using markers.
There is also the option to embed external or internal links to each map's markers using this plugin.
The Google Maps Easy plugin gives you access to various themes and map styles to choose the one that suits your website.
You will also get the option to add a basic list of the display of your markers. Or you can choose to use a list of carousel marker displays.
Supsystic's developed Google Maps Easy plugin is excellent for those who want a no-hassle solution to build limitless markers and maps for their chosen locations for a WordPress website.
You don't have to buy the premium versions if you are on a tight budget. The free version has multiple features that can get the job done without spending a single buck.
However, if you decide to purchase the pro version, you will be allowed special access to the additional special features. The licensed pro version offers more alternative routes, map themes, heatmap layers, markers, and more.
10. Simple Shortcode for Google Maps
Lastly, the Simple Shortcode for Google Maps is the simplest plugin and best for those who just want to set up a map and don't care about features. The best this is it's a free plugin that provides shortcodes for embedding Google Maps on posts or pages using the default WordPress editor. You should try Simple Shortcode for Google Maps, but the drawback is you need a bit of knowledge of CSS code.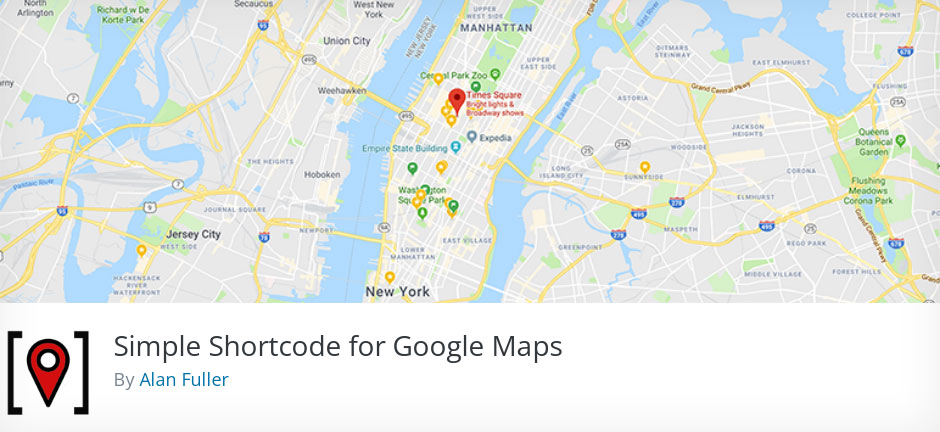 Simple Shortcode for Google Maps benefits:
Configure maps using easy and straightforward shortcodes.
Generate maps of custom sizes, changing the height and weight parameters of the shortcode.
Great for maps that show delivery areas, contact page maps, and more.
You can configure cache using WordPress Transients API
Shortcode options include address, width, height, zoom control, scroll control, and map control.
Using this plugin, you can add the addresses you want to embed into your maps with custom width and height. It allows you to enable the scroll wheel to zoom in or out. You can even configure custom zoom levels for each map.
You can also use the satellite shortcode to show your users the satellite map view, and hybrid and terrain shortcodes will display the map's transparent layers and physical features, respectively.
FAQs
How do I use the Google Maps plugin in WordPress?
Most of the Google Maps Plugins offer features that let you create customized and personalized map designs. The plugin will then provide you with a shortcode or code blocks for the custom map designs you customize. Now, you can embed these maps into your WordPress post or pages using shortcodes or code blocks.
What is the best Google Maps Plugin for WordPress?
There is no simple answer to this question. All the plugins mentioned in this article are unique in their own way. Each of these plugins comes with different benefits, even though most of them will give you access to multiple basic features.
Is Google Maps free for WordPress?
Google Maps can be free for WordPress, depending on the plugin you choose.
A couple of plugins have free versions that get the job done easily. However, you should get the pro versions if you want additional special features for your website.
How do I get a Google Map API in WordPress?
To get a Google Map API in WordPress, you must create an account on the Google Cloud Platform.
You have to create a new project and set up the billing account after creating the account. From there on, it's easy to find your API key from the options.
Conclusion
A Google Maps plugin feeds your website a broad reach and helps visitors to find your location quickly.
Choose one of the plugins mentioned in this article if you want a WordPress Google Maps plugin that embeds Google Maps into your WordPress website and gives you multiple customization options. And good luck on your journey.