Sales Territory Mapping
A sales territory map is a strategy for your sales agents to follow. You can identify locations and assign certain territories to each rep by mapping prospects. Using good territory mapping software, you can crop and cut regions that satisfy your requirements and distribute them among your salesforce. Not only does drawing out territories ensure that you only target clients who are likely to buy, but it also prevents salespeople from confusing and snatching each other's business.
Create your sales territories on the interactive map
Do you want to embed an interactive map of sales territories on your website?
Download a simple
US map plugin
for WordPress/HTML websites.
What is a sales territory map?
According to Wikipedia, a sales territory is a customer group or geographic area for which an individual salesperson or team of salespeople is responsible.

It can't be easy to split up your sales territory. How can you be sure that you're employing the proper techniques? What conditions you must meet to be successful? These responses can vary depending on the business type, but here are a few pointers to get you started.

Your salesforce are aware that they must fulfill portions today, but what are your long-term company objectives? Is your current strategy flexible and scalable enough to get you where you want to be? Is your company expanding, sustaining, or contracting? Are you preparing to launch a new product? Are there going to be any regulatory adjustments shortly? Thinking about the answers to these questions can assist you in making informed selections for what your company needs now and in the future.

It's always crucial to create new leads and close new deals, but consumer retention is just as essential to your bottom line. So, in addition to looking at expansion opportunities, keep in mind the requirements of your existing clients – and how you'll address them. A quick plan enables you to react quickly to market and operational developments. Try creating several situations and experimenting with various alignments. This method will help you to face changes without causing any disruptions. It will also allow you to explore new methods to be more agile.

Intelligent sales territory mapping technologies can automate manual tasks such as spreadsheet data entry, streamline manual data analysis, eliminate errors, and help reps be more efficient with their time and effort.
How to create a sales territory map?
You must understand certain things before planning a sales territory map. They are as follows:

Objectives:
It is always necessary to have a clear set of objectives. These could include income and sales volume objectives. They could contain non-financial goals as well. For example, they could be futuristic growth goals or concurrent marketing initiatives, such as acquiring specific consumer sections or selling a certain amount of a given product. Whatever your goals are, the ones you prioritize should be in line with your overall business objectives.

Segment your market:
Innovative segmentation guarantees that you pursue the total addressable market rather than just the big sales or easy wins. For instance, a company segmentation is dependent on factors, such as region, geography, company size, industry, and customer lifecycle. Therefore, Your segmentation strategy should be in line with your set objective and desired goals.

Balance is crucial when it comes to establishing and assigning territory. First, consider how you will distribute your freshly split areas. Depending on your goals, you may wish to give territories based on location, customer industry, account executives' experience, or any number of reasons. To ensure that sales territories are equitable, rely on the knowledge of sales managers and intelligent software.

Segment by industry:
Segmenting by industry entails categorizing your clients based on their industry of operation, such as education, government, healthcare, or retail. This technique, like size-based segments, might be challenging to execute, but it allows your employees to become subject matter experts and earn valuable experience working in a particular area. Alternatively, suppose you know your salespeople already have experience in a specific site. In that case, you can help them play to their strengths by allocating them to regions based on their previous experience.

Hybrid approach:
Finally, you can employ a hybrid segmentation strategy in which different salespeople are assigned to different-sized firms or industries within the same geographic area. This method is more challenging to set up because you'll need to define and build numerous layers of client segments, but it's ideal for larger teams that deal with many leads and accounts and require a systematic manner to break out the work.

How to optimize your sales territories?
Having the correct tools and technology is essential for improving your sales regions. Previously, sales executives relied on spreadsheets, maps, and client lists. Still, improvements in intelligent sales territory mapping software allow you to swiftly create new territory structures and scenarios by weighing scores of variables and performing sophisticated calculations.

Align territories with customer data. The program connects essential account and user data to your mapping process, allowing you to create territory designs that cater to your customers' demands. Accounts can be automatically balanced among territories using the criteria that matter most to your organization, ensuring equitable territories between sales representatives.

As a result, more equitable territories are allotted to representatives. It can save time as teams no longer spend hundreds of hours exporting and importing data and creating time-consuming analyses to implement changes at scale. Intelligent software can swiftly update maps to accommodate new sales representatives and other small business changes while causing the least amount of interruption.

What is sales mapping software?
A commercial solution that integrates sales data with geolocation is sales mapping software. It is mainly used to design territory by sales managers and field salespeople. It also enables them to map out leads, consumers, and regions. With improved routes and more effective schedules, it even aids sales personnel in managing time in the field. You want to be sure you have the correct tool because various software focuses on different areas.

Mapping software applications such as eSpatial allows you to create a map that shows information. This makes it simple to examine your data and make better judgments. In a nutshell, sales managers can use mapping software to see: Where can you find customers and leads? The distribution of clients across target territories. In a sales team, how are territories assigned among individuals?

Various tools range from non-technical tools (simple map overlays) to more technical options. An expert feature to look out for is a progressive sales territory optimization software with CRM integration and other features. This could be a game-changer for your sales team.

You can do a lot with the help of a sales mapping tool: Have a territory that is both clear and evenly distributed. It's simple to tell the difference between good and useless locations. Conduct efficient sales planning and make the most of your time and resources. You should choose a sales mapping program with advanced features if you want to increase your efficiency. You can get ahead faster by optimizing your territory management. These high-tech gadgets can assist you in various ways: Meet more clients while saving money on gas and mileage (with route optimization), organize sales representatives (with team management features) and track and evaluate sales activity (with custom reports).

If you are interested in territory mapping, you can develop your interactive map for websites and display the different regions you are covering.

Many considerations will determine which sales mapping software is best for you. This covers details such as your budget, objectives, and company size. Although some free tools are accessible, there are few possibilities for free sales mapping software with advanced functionality. Some of these applications include "freemium" versions with limited sales mapping capabilities. However, a paid subscription should be considered if you require a sales mapping program that handles all your issues.

If you're on a budget and require free sales mapping software, make sure to fully utilize the free trials that some of these products provide. Consider all the features and integrations available when selecting the proper sales mapping software. Also, pay attention to the area titled "best for." You'll be able to pick the most outstanding sales mapping software for your needs this way.

The best sales territory mapping software
Listed below are the best software used vastly for sales mapping territory:
Badger Maps
Badger Maps is territory mapping software designed for mobile sales teams. You can upload customer lists to the application, and it will turn them into an interactive map of your sales zone, complete with color-coded pins to show you where your customers are.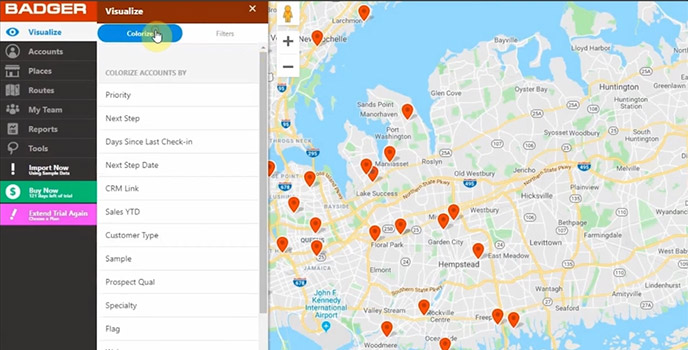 Strengths of the application:

Badger Maps' specialty is route optimization. This program will calculate the quickest route between various sites, saving your salespeople time and money on gas. Customer check-ins can also be recorded in the app, allowing you to keep track of interactions while on the go. It also features a handy lasso feature that lets you select a group of spots and update them all at once.

Limitations of the application:

Some users have complained that getting started with Badger Maps might be difficult due to the many options. Others wish the app included a mileage tracker so they could use it to track their distance for tax purposes.

Pricing:

Badger Maps is available for $49 per month per user. The enterprise package starts at $95 per month per user and includes extras like priority phone support, one-on-one training, bespoke CRM integrations, and more.
eSpatial
eSpatial is a territory management tool that allows you to build new territories quickly. You may also utilize the program to restructure and balance territory to ensure that accounts are distributed evenly among your sales staff. Sales reps can then use the technology to map out and optimize their routes, create performance reports, and more.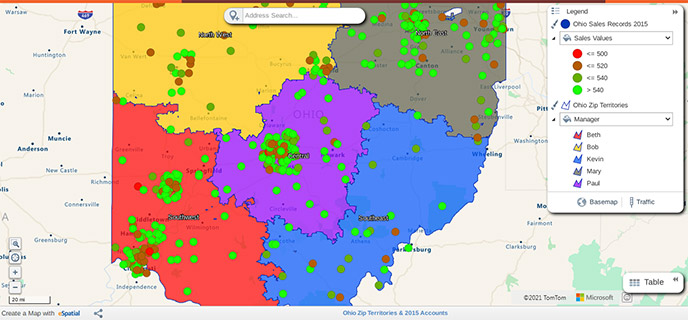 Strengths of the application:

The software is easy to use, according to users, while also providing incredibly data-rich mapping capabilities. eSpatial also features a helpful customer support team that responds to questions and problems timely and patiently.

Limitations of the application:

eSpatial's graphics aren't quite as appealing as those of the other selections on our list. Some customers have also complained that the database library is difficult to traverse, making it impossible to see all of their maps at once.

Pricing:

The Pro plan from eSpatial costs $1,295 per year. This package includes a single-user license and data visualization, drive time analysis, route optimization, and valuable features. The Team plan costs $2,995 a year and consists of all of the Pro plan's features and five user licenses, Salesforce connection, and other perks. Team Plus ($5,995 per year) and Enterprise plans (custom pricing) are also available from eSpatial.
Maptive
You can build maps for sales areas in seconds with Maptive. You just need to upload location-based data to the platform, and Maptive will generate a bespoke map for you. The map can then be customized by creating your own sales territory boundaries or utilizing established ones such as ZIP codes. Essential data, such as total sales and demographic data, can also be grouped using the app.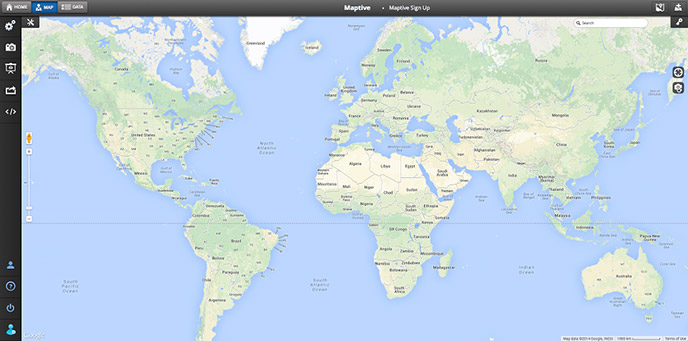 Strengths of the application:

Maptive's customizing options are unrivaled. For example, the territory tool in the application lets you draw custom shapes to represent different territories and then quickly calculate the number of sites or total sales inside that region to determine its viability. It doesn't get much easier than that when it comes to territory mapping.

Limitations of the application:

If you have a small team that only needs to use sales mapping tools a few times a year, Maptive can be costly. However, if you have fewer regular mapping needs, the $250 45 Day Pass pricing tier may be a decent fit, but it doesn't include as many locations or geocodes as the yearly subscriptions.

Pricing:

The price of a 45-day Maptive pass starts at $250. This package includes one user license, 15
recyclable maps, 30,000 locations per map, and 70,000 geocodes each month. You receive one user license, 40 recyclable maps, 100,000 locations per month, and 500,000 geocodes per month for $1,250 per year. Finally, five user licenses, 100 recyclable maps, 100,000 locations per map, and 1,000,000 geocodes every month are available for $2,500 per year.
SmartDraw
SmartDraw is one of the best tools for making ideas and drawings, even though it doesn't have sales productivity, territory administration, or data analytics solutions. SmartDraw is unique among the mapping software products on our list in that it gives users templates, tools, and symbols to make charts quickly. In addition, it features designer templates with intelligent formatting. As a result, it can be used to map floorplans, buildings, events, and corporate processes, among other things. Microsoft 365, G Suite, and the Atlassian stack are all integrated.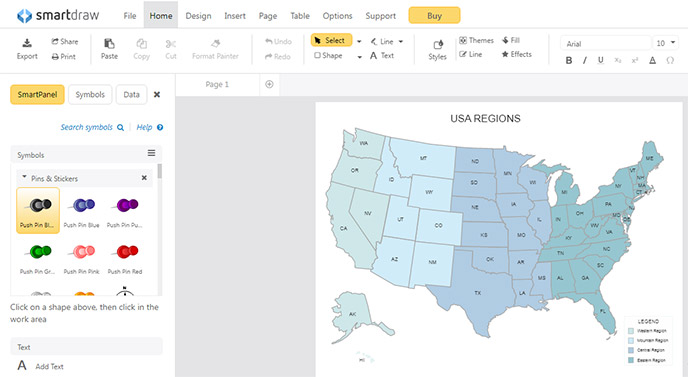 Strengths of the application:

A large number of templates and objects are available. It is simple to understand and easy to use by anyone. It gives a range of options for good integration.

Limitations of the application:

There are no sales features. In addition, it does not support customer service features due to weak collaboration features.

Pricing:

The price of the software starts at $5.95 per month for a single user.
BatchGeo
BatchGeo is the quickest way to turn your spreadsheet into Google Maps. Copy and paste your data into the tool, including addresses, intersections, cities, states, and postal codes. It is widely used by data analysts, marketers, journalists, real estate firms, and sales teams.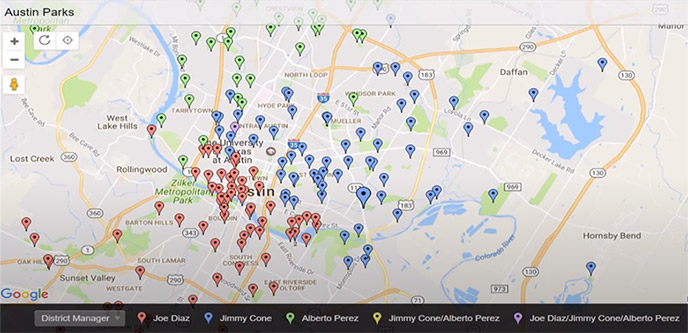 Strengths of the application:

Create interactive maps of customers, leads, and assets using spreadsheet data. Look for patterns, hotspots, and cold zones. Then, drill down to find geographically specific information, such as total sales value, several sales, and revenue per sale for each state—filter for the regions of a given sales representative.

Limitations of the application:

Sales features are limited in this application. There is no CRM integration. Moreover, there are no check-in or route options. Lastly, there are no real-time traffic updates.

Pricing:

BatchGeo does have a free trial (restricted capabilities). Otherwise, BatchGeo Pro will cost you $99 per month.
Conclusion
To be genuinely successful, outside salespeople require more than just a map with area boundary lines on it. While out in the field, reps should be armed with demographic data, efficient sales routes, existing client information, and prospecting skills. Follow the procedures indicated above and choose a mapping platform that allows you to automate as many of your activities as possible to achieve this and perfect your territorial mapping approach.
---