Detailed review of the plugin US map for WordPress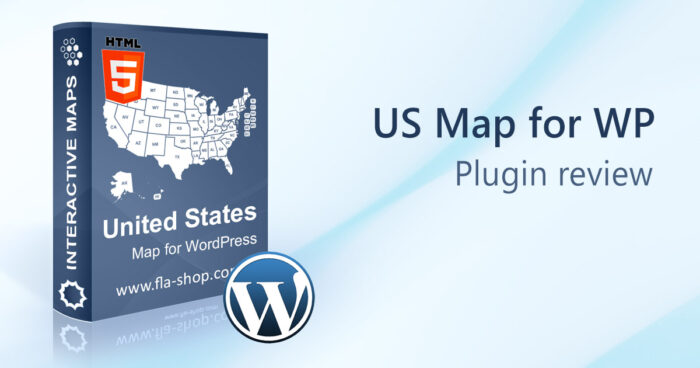 Introduction
First of all, this article opens a series of articles devoted to a comprehensive review of the US map plugin for WordPress options and possibilities. Each article will cover one option block. After all, you will easily customize all features of your interactive map. Today we will start with the basic overview of a plugin and a quick tutorial on the admin page.
What is the US plugin for WordPress suitable for?
You can use the US plugin for WordPress for different purposes:
visualization of branch/dealer network;
sales regions visualization;
to show any statistical data;
for interactive infographics.
Moreover, you can use this map not only for large corporate websites. Also, any personal blog owner can use this map for the visitors' convenience. Indeed, rich customization capabilities along with the simplicity of use transform this plugin into a powerful tool for website usability improvement. As can be seen from our showcase gallery, many companies from all over the world have already chosen our plugin for placing geographical-related content.
Overview
Firstly, the plugin installation process is quite simple. We will describe it in one of the following posts. Secondly, when the installation process is finished, you will see a plugin settings window in your WordPress admin page as well as in the screenshot below.
Note: we strongly recommend opening a Map Preview tab directly after the plugin installation to make sure that the plugin works correctly.
Plugin back-end sections
The screenshot below shows links to the main plugin options pages. But please note that for your convenience all necessary navigation buttons are placed on the "Map preview" page.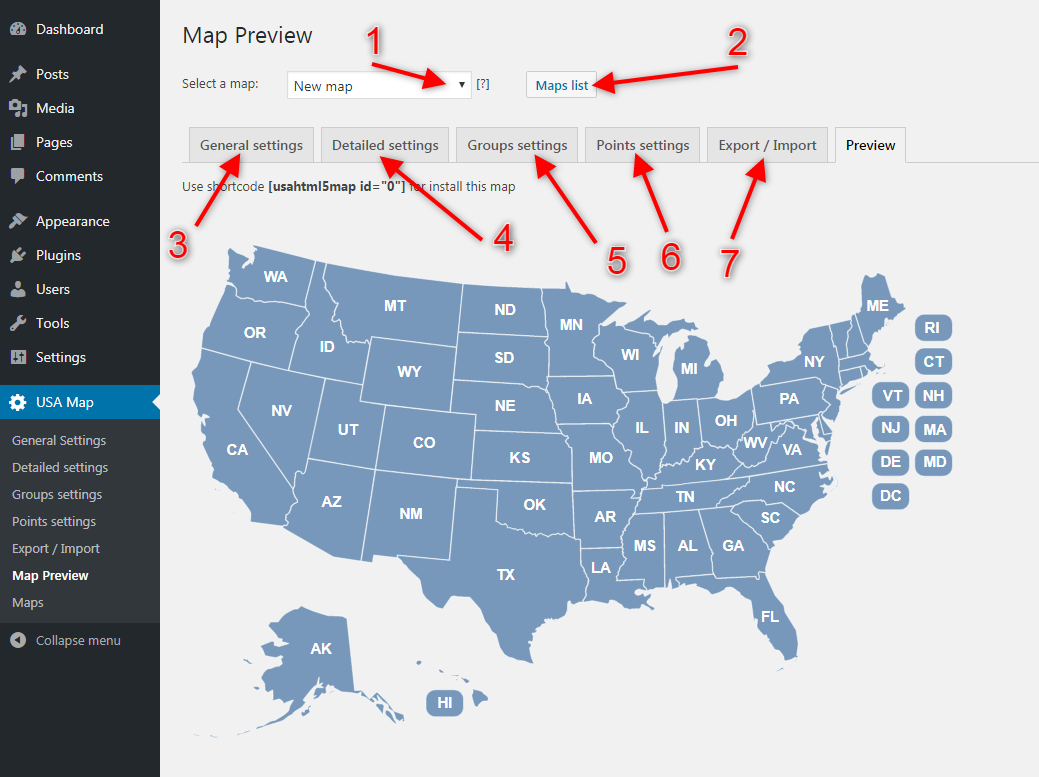 [1] Map selection.
The US map plugin for WordPress allows creating an unlimited amount of interactive maps. Thus, this section allows selecting any map that you created.
[2] Maps list.
After pressing this button, you get to the maps list page. So, there you can create or delete a map, make a backup, or import/export map settings.
[3] General settings.
This button leads you to a "General settings" page where you can set up the main interactive map settings.
[4] Detailed settings.
After pressing this button, you will find yourself on the page where you can specify the settings for separate states.
[5] Groups settings.
One of the main features of the US map WordPress plugin from Fla-shop.com is a grouping. Eventually, the grouping allows combining several states into a group and setting all necessary information for it.
[6] Point settings.
Points can be placed in each US state on the map and can be associated with the information in the pop-up windows. This section allows creating and editing an unlimited number of points.
[7] Export/import via CSV.
This section allows import/export of the settings via spreadsheets.
Articles with the detailed review of each part
Part 6. Export/import via CSV. (coming soon)
Conclusion
To sum up, the US interactive map plugin is a powerful tool that helps to improve a website's usability and to attract more visitors without any effort and the necessity of deep programming knowledge. In the following articles, we will cover all plugin options to make a map customization process easier.
---