News digest #2 – Locator maps v.2.9.9, Hong Kong interactive map, Wyoming custom map
First of all, Fla-shop.com wishes you a happy New Year and a lot of professional success. But now the holidays have gone and it's time to work… Of course, with the exciting innovations that we've prepared for you.
Locator interactive maps v. 2.9.9 are available!
We significantly improved the functionality and the stability of our interactive locator maps of U.S., France, UK, World and other. The complete description of improvements you can find in one of our next posts, and now we will show just the short list of changes:
Bulk edit
This feature allows applying the same settings to several states (counties, countries, and so on, dependant on the purchased plugin) or to the whole map.
Access to settings for users with "Editor" role
This feature allows opening the access to plugin settings for the users with the "Editor" role, along with users with full administrative privileges.
Dropdown states list
This option makes your interactive map more comfortable for mobile visitors. Just click on the state directly or select the state via the dropdown list and you will get the same result – opening the link or displaying the content alongside the map.
Interface improvements
We improved the interface of our plugins.
New plugin – Hong Kong interactive map
We are glad to represent the new WordPress Interactive map of Hong Kong with all of its districts.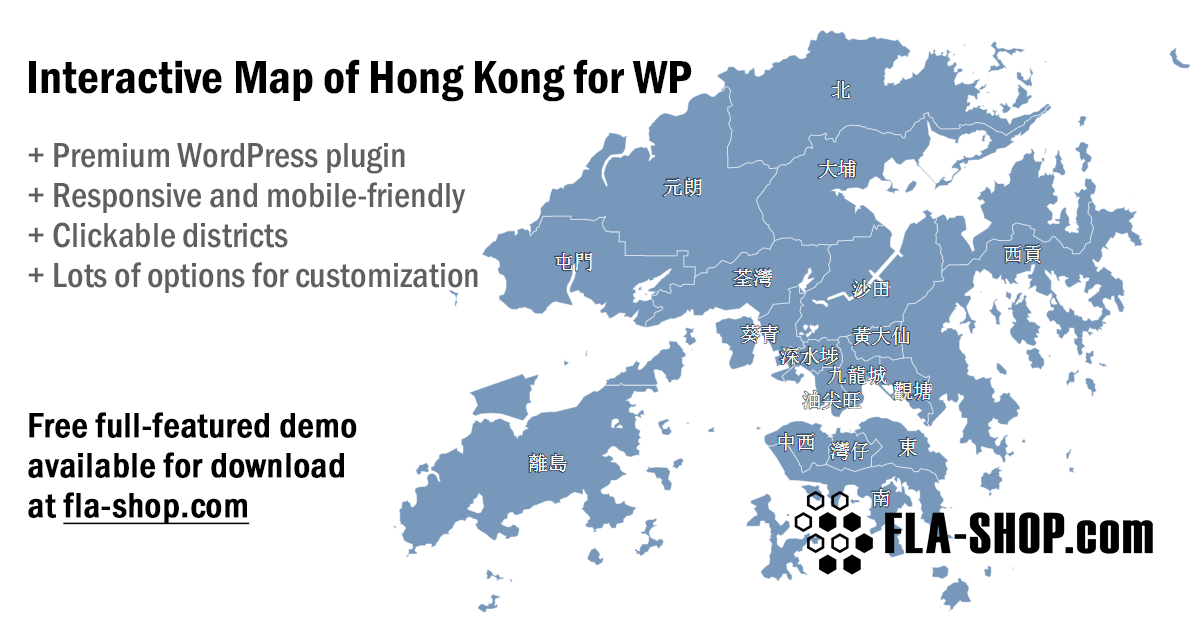 This plugin will be useful for real-estate, recruiting, or interactive websites. You can also use this plugin to display any kind of statistical data or to create interactive infographics.
For more information visit the Hong Kong interactive map product page.


New custom interactive map of Wyoming
We constantly develop custom interactive maps for our clients, and now we are glad to represent the custom interactive map of Wyoming. This interactive map represents new capabilities – roads visualization and customised icons on the map.

Get Customized Map from Fla-shop.com!
---